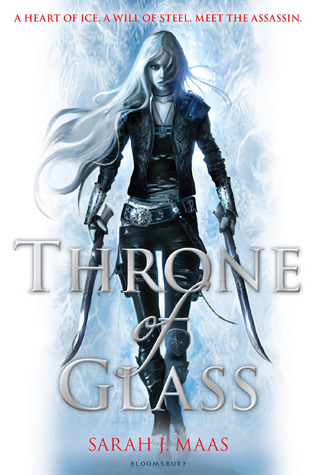 Throne of Glass
Throne of Glass #1
Sarah J. Maas
YA Fantasy
Rating: 3.5/5
Synopsis
Eighteen year old Celaena is a highly skilled assassin serving a life sentence in the salt mines of Endovier.  The Crown Prince makes a deal to sponsor her in a tournament to find a champion for the King.  Celaena despises the King, but the opportunity to gain her freedom is too tempting to resist.
But defeating her opposition in the tournament is not Celaena's only challenge.  An evil is lurking within the castle, traces of magic have been found, and there are also matters of the heart.
Characters
I really enjoyed Celaena's character.  She was interesting, amusing and just entertaining to read.  Her character is the best part of the book and she is the reason why I continued to look forward to my limited reading time.
Some of the other characters in the book seem a bit predictable and stereotypical.  I found this to be disappointing, but it did not interfere with my overall enjoyment.
Plot
I was quite interested in the plot until magic started to play a larger role.  I felt as though it was a little too convenient and more explanation about its use was definitely needed.  There were times when something happened that made sense to those who understood magic, but not to those who did not, but they did not appear to react in any way.
The love triangle theme also seemed a little unnecessary and I felt as though it was a little unrealistic.
World
I liked the set up of the world and the background about the wars and what the King had done to the other regions.  It made sense and it was a good foundation for certain feelings and character impressions.
The description of the castle, especially Celaena's rooms, gave me the impression that the castle itself was actually the size of a city.  This was another thing I found unrealistic.
Writing
There were a few errors and typos and, without going back and actually checking, there was one point where I was certain the number of other potential champions was mistaken.
There was also a lot of focus on what the characters were wearing, and not so much on the description of the areas they were in.
Overall
I enjoyed the book, but mostly due to Celaena's character and not necessarily for the plot.  I am curious to know what happens next, so I will probably still read the rest of the series, but there are so many other things that I want to read so I think I will just come back to it another time.
It is a very easy book to read and quite typically Young Adult, so if you enjoy that sort of book then I would recommend giving it a go.